Students pick up Prize for Youth Centre Business Plan
A group of students from Sidcup have scooped the runner-up prize in a major business challenge.
The students from Christ the King Sixth Forms took part in the London Metropolitan University's annual Big Idea Challenge for schools and colleges. The competition aims to raise entrepreneurial interest in teenagers across London, encouraging and supporting them to treat it as a career path.
At the awards ceremony, held at the Royal Institution, Ayodeji Adebiyi, Lucky Aragua, Joseph Kwaw, Aliy Salako, Kimarnie Bell and Daniel Komon succeeded with their idea called Enough Is Enough. This is a youth centre that focuses on careers advice and work experience to tackle the rising rates of knife crime throughout London, as well as engaging young people in sports and music. "Our goal is to make a youth club to get youth off the street, to prevent violent and knife-related crimes," said Aily Salako. "The next step in taking our business forward is to look for investors, and also thinking of ways we can improve our idea. We also don't have a website or a way for people to contact us, so that is a priority to take our idea to the next level."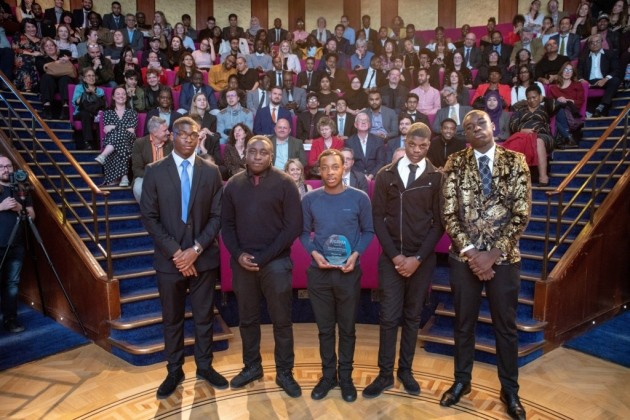 The Big Idea Challenge for schools and colleges runs alongside the London Metropolitan University's annual Big Idea Challenge, which invites students, alumni and staff to enter their idea and win a shared prize pool of £30,000 to launch their winning idea. Previous winners have gone on to launch businesses which have created hundreds of jobs and millions of pounds profit.
Toby Kress, head of the Accelerator hub at London Met, which helps start-ups, said: "This year's Big Idea Challenge was bigger and better than ever before. "I was seriously impressed with the ideas entered this year. At London Met, we have such a diverse community and the array of ideas produced really showed me that our students and staff really can make a difference.
"At Accelerator, we put our all into supporting the winning ideas, and I am excited to see how these ideas develop next."
Find the right course for you:
Tony

ST MARY'S

Grades achieved: A*A*BA Progressed to: University of Oxford Course: A Level Maths, Physics, Fine Art and Further Maths

"CTK has always encouraged me to aim high, which has led me to apply to the University of Oxford and I am so pleased to begin my studies there. "

Mauzi

ST MARY'S

Grades achieved: D*DD Progressed to: University of Manchester Course: BTEC Applied Science

"During my time at CTK I have enjoyed meeting various new people, whilst engaging in classroom activities and coursework. Additionally, my teachers have provided me with excellent support throughout my studies. I am now going on to study Pharmacy at University of Manchester, in the pursuit of becoming a Pharmacist. I can't wait to start this new journey."

Precious

ST MARY'S

Grades achieved: D*D*D* Progressed to: City University of London Course: BTEC Level 3 Health and Social Care

"Studying BTEC Health gave me the best opportunity to realise my dream. I'm incredibly appreciative of all the support and assistance I received throughout my course. From the beginning, the staff recognised my ability and didn't give up on me."

Chief

ST MARY'S

Grades achieved: BBB Progressed to: Queen Mary University Course: A Level Maths, Physics and Chemistry

"I really enjoyed my learning at CTK as lessons were relevant, engaging and challenging, whilst cultivating a warm, dynamic atmosphere."

Nathaniel

ST MARY'S

Grades achieved: D*D*D Progressed to: University of Reading Course: BTEC Level 3 Creative Media

"The personalised attention and encouragement from the teachers has, without doubt, contributed to my academic success. The various resources offered by the sixth form, such as the library, extracurricular activities, and online tools have been outstanding. I would highly recommend CTK, to anyone looking for a wonderful educational experience that goes beyond academic excellence."

Maddison

ST MARY'S

Grades achieved: BCA, Distinction* Progressed to: Degree Apprenticeship in Accounting & Finance Course: A Level Business, Maths, EPQ and BTEC IT

"CTK St Mary's is a great environment with friendly people and teachers who want us to succeed. My grades significantly improved. I have enjoyed the various trips and enrichment activities that take place at CTK."

Daulat

ST MARY'S

Grades achieved: AAB Progressed to: Queen Mary's University Course: A Level Maths, Physics and Chemistry

"If you are willing to put in the effort to succeed, CTK is the best place to be. The sixth form provides excellent resources and a supportive community to help you reach your academic and personal goals."