Creative Media
BTEC Technical Advanced Diploma (Equivalent to 3 A Levels)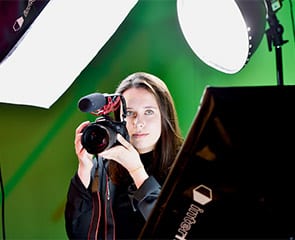 This course is valued by employers and universities. On completion of the course you can progress to a degree course such as multimedia, advertising, TV or film. The course also provides excellent opportunities to begin work within the media industry.
CONTENT
The course is perfect for you if your ambition is to work in the media or the creative industries, covering units such as film editing, sound editing, digital photography and advertising production.
You'll develop a broad understanding of creative media whilst building on specialist areas of interest. The course will ensure that you start building the technical skills, knowledge and understanding relevant to working in the evolving, fast moving and exacting media industry. The units also provide a unique insight into employment opportunities, job requirements, and working practices needed to compete in such a highly competitive industry.
ENTRY REQUIREMENTS
Four GCSEs at grades 9-4, including Maths and English
ASSESSMENT
This course is equivalent to three A Levels. You will be assessed by coursework and external examination.
Find the right course for you: