Photography
A Level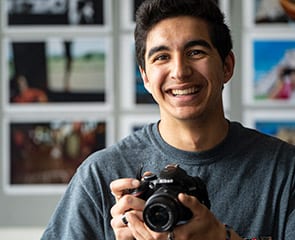 A Level Photography is an exciting course that can lead to careers in photography, fine art, film, media and animation, photo journalism, fashion photography, advertising and photo graphics. This is an excellent course to study if you wish to go on to become a photographer, architect, journalist or a film director.
CONTENT
During this course, you will be encouraged to develop a personalised visual language by observing the world through the lens of a camera. You will also learn how to use sketchbooks and digital portfolios to explore your own creative process by experimenting with imagery and manipulating meanings. You will learn a range of both darkroom techniques and digital processes.
You will also collaborate with other students to learn how to use cameras, studio lighting and digital editing software. Your work will be inspired by the study of other artists and photographers through contextual research and visits to galleries.
As part of the personal investigation component of the A Level, you will be required to produce a minimum 1000-word critical study. At the end of the course your
work will be displayed at the annual art exhibition, which celebrates the creativity of you and other students.
ENTRY REQUIREMENTS
Minimum five GCSEs at grade 9-5
English and Maths at minimum grade 5
You will need to have GCSE (Grade 9-5) in an Art based subject or BTEC Level 2 Diploma in Art and Design (Merit). If you have not studied the subject at school but wish to be considered for the course, evidence of ability and interest in the form of a sketchbook/portfolio must be shown at interview.
ASSESSMENT
You will be assessed through coursework and controlled assignments. You will also be required to produce a portfolio of coursework and separate controlled assignments.
Find the right course for you: