Management & Administration
(Equivalent to 3 A Levels)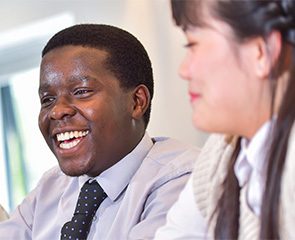 Do you want to be a leader in business?
T Levels at CTK St Mary's have been designed in partnership with businesses and employers to give you the technical skills and knowledge to succeed in the workplace. During this course you will obtain the knowledge and skills required to work in a management position, start your own business, or start your career in a range of business functions such as HR, accounting, management, systems and project management, and more.
CONTENT
On this two-year course, you will study a wide range of topics including Business Context, People, Quality Compliance, Project, and Change Management. You can expect to enjoy a 45-day work placement getting familiar with business functions, systems and process as well as attending meetings or dealing with customers depending on the role. You'll be taught and inspired by business experts in our fantastic on-site facilities, as well as learning in the real work environment on your work placement. This course is ideal for you as the foundation to progress into any sector that requires administrative, managerial or leadership roles in your future.
BUSINESS CAREERS
Accountant
Business Analyst
Business Teacher
Change Mangement
Consultant
Entrepreneur
Events Management
Government
Human Resources
Law
Marketing
Operations Manager
Procurement Manager
Public Relations
Sales
Training
Find the right course for you: