Biology
A LEVEL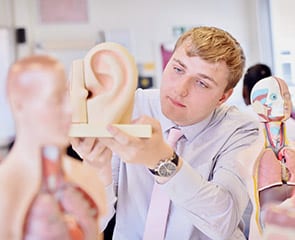 An A Level in Biology can open the door to a wide variety of careers. Depending on what you study at university, you could go on to become a doctor, a lab technician, a forensic scientist or even a teacher.
CONTENT
You will find Biology to be a stimulating and challenging subject that encourages you to work to a high standard, thus developing your analytical skills. You will gain an understanding of the various areas within the subject and how they relate to each other. In addition to this, your knowledge and understanding of different scientific methods will be strengthened.
Your A Level Biology course will further develop your mathematical, practical and analytical skills, which will help prepare you for the work and higher educational fields. You will develop your practical skills while studying foundations in Biology, exchange and transport, biodiversity, evolution and disease, communication, homeostasis and energy, genetics, evolution and ecosystems.
ENTRY REQUIREMENTS
Minimum five GCSEs at grade 9-5
English and Maths at minimum grade 5
You will also need either GCSE Biology or GCSE combined Science at grade 6 or above.
ASSESSMENT
You will be assessed by examination at the end of each year of your course
Find the right course for you: