Religious Studies
A Level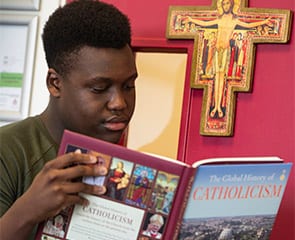 An A Level in Religious Studies can be the starting point to a variety of careers – from teaching to archaeology. As a highly regarded subject, it opens doors to a range of career paths including law, philosophy, social work, teaching and community work.
CONTENT
During your course, you will develop an in-depth understanding and appreciation of religious beliefs and teachings, as well as the disciplines of ethics and philosophy of religion. Your course will be thoroughly engaging and further develop your interest in Religious Studies. The topics you will study include philosophy of religion, arguments about the existence or non-existence of God, the challenge for religious belief of the problem of evil, and the possibility of life after death. You will also take part in debates surrounding the concept of conscience and free will, the influence on ethical thought and its developments in religious beliefs and the
philosophy of religion. In addition to this, you will study developments in Christian thought, religious beliefs, values and teachings, sources of religious wisdom and authority, practices which shape and express religious identity, and how these vary within Christianity.
ENTRY REQUIREMENTS
Minimum five GCSEs at grade 9-5
English and Maths at minimum grade 5
ASSESSMENT
Your work will be assessed by external examination.
Find the right course for you: