HISTORY
A Level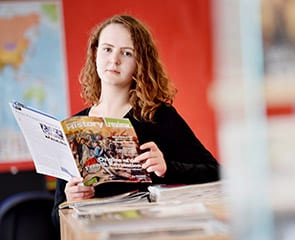 An A Level in History can be the starting point to a variety of careers – from teaching to archaeology, politics, law and anthropology.
CONTENT
Your course will help you hone your analytical skills and strengthen your essay writing abilities. To get the most out of your course, you must be someone who enjoys reading, researching, writing, asking questions, and you are also ambitious to develop a high level of skill in these areas. You will also analyse and investigate key historical events and personalities such as the social and political development of Britain in the 19th century and autocracy and dictatorship in Russia.
ENTRY REQUIREMENTS
Minimum five GCSEs at grade 9-5
English and Maths at minimum grade 5
ASSESSMENT
You will be assessed with exams at the end of each year of your course. In your second year you will also complete a coursework unit on civil rights in the USA.
Find the right course for you: