Sport
BTEC Technical Advanced Diploma (Equivalent to 3 A Levels)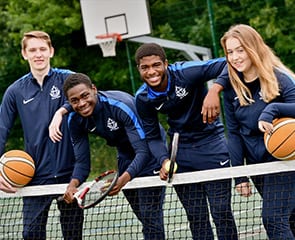 This course is ideal if you want to pursue a career in sports development, work in coaching and the fitness industry, or business in sport (marketing and sports therapy and rehabilitation). It is also appropriate for progression to teaching roles through specialist degree routes.
CONTENT
You will develop your knowledge, understanding, practical skills and appreciation of the context in which sports activity takes place. It will help prepare you for university as well as for careers in the sports industry. You will study anatomy and physiology, fitness training and programming for health, sport and well-being, sports leadership, sports event organisation, development and provision of sport and physical activity, coaching for performance, professional development in the sports industry, sports psychology, practical sports performance, application of fitness testing, rules and regulations, investigating business in sport, skill acquisition and research methods.
ENTRY REQUIREMENTS
Four GCSEs at grades 9-4, including Maths and English
ASSESSMENT
Coursework and externally examined units, plus a one week work experience placement.
Find the right course for you: